Home

Polonnaruwa Royal College under 16  stickers emerges Joint Champs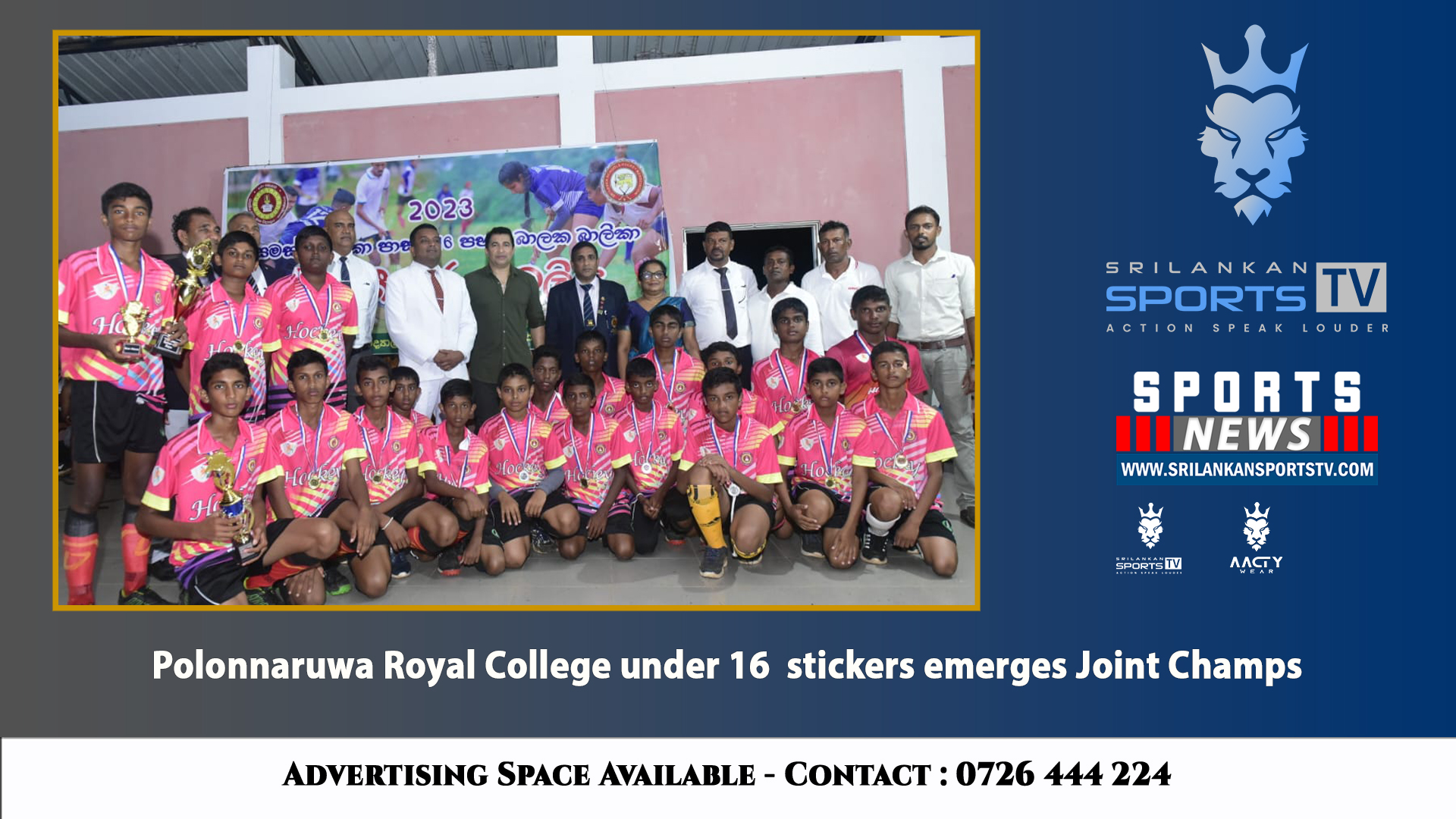 Polonnaruwa Royal College under 16  stickers emerges Joint Champs
M.H. Yakeem 
In the History of the sport of Hockey, an All Island Boys/Girls under 16 Hockey tournament was held for the first time in Polonnaruwa, which was hosted by Royal College Polonnaruwa under the direction of the Sports Minister, Roshan Ranasinghe.
At this first ever Hockey tournament, the host Royal College Polonnaruwa competing in the "C" division at this championship 2023, emerged as Joint Champions with Maris Stella College, Thimbirigaskatuwa. This was an initiative taken by the Sri-Lanka Schools Hockey Association, under the guidance of the Ministry of Education to promote the Sport in Polonnaruwa, which was held at the Royal College ground, Polonnaruwa from the 29th of October to the 01st of November 2023.
The Sports Minister Roshan Ranasinghe, who is also an Old Boy of Royal College Polonnaruwa, played an instrumental role in getting this tournament to be staged in Polonnaruwa and the Principal, Ravilal Wijewansa giving his fullest support and cooperation along with the Vice Principal, Manjula Undugoda and MIC Dinesh Rathnayake made all arrangements to host this first-ever tournament in Polonnaruwa. Sports Minister,  Roshan Ranasinghe,  who was very keen to have this tournament In Polonnaruwa was the Chief Guest,  who graced this wonderful occasion. 
Royal College Polonnaruwa, in their league matches played,  won against Harischandra Vidyalaya Gampaha and Upananda Vidyalaya Galle, and drew with Kengalla Vidyalaya.  In the semi-final, they beat Girandurukotte National School on penalty strokes 2/1, and in the final, they drew against Maris Stella College,  Thinbirigaskatuwa to emerge as Joint Champs.  All credit has to go to the Coach, Dhammika Abeyrathne, an ex-National Hockey player from Christ Church College Matale, who represented Sri Lanka from 1997 to 2010 and had the distinction of Captaining the National team in 2010 at the SAF games. As he is now residing in Polonnaruwa,  it will be an asset to develop the game in Polonnaruwa. 
The team comprises Achiru Yapa  Kavisha Costa, Anuhas Amaraweera, Reshan Mayantha, Dineth Nirupama, Dineth Gankewela, Ashith Navodha, Bosura Seneviratne,  Damhiru Kasthuriarachchi, Keshan Perera,  Nagana Dineth, Akidu Anujitha, Hasaral Chandika, Hirun Gamitha, R.kodithuwakku, Theekshana Navarathne, Thinura Thulitha, D. Kumarasinghe A. Navarathne, Leethicha 
Caption
1 – The Royal College Polonnaruwa under 16 winning stickers with Sports Minister,  Roshan Ranasinghe, Principal Ravilal Wijewansa, and other officials. 
2 –  Coach Dammika Abeurathne, guided the team to emerge as Joint Champs at this first-ever tournament. 
(Visited 25 times, 1 visits today)
You Might Be Interested In