Home

Autokitz Cricket Club in an easy 5-wicket win against Mahawatta Lions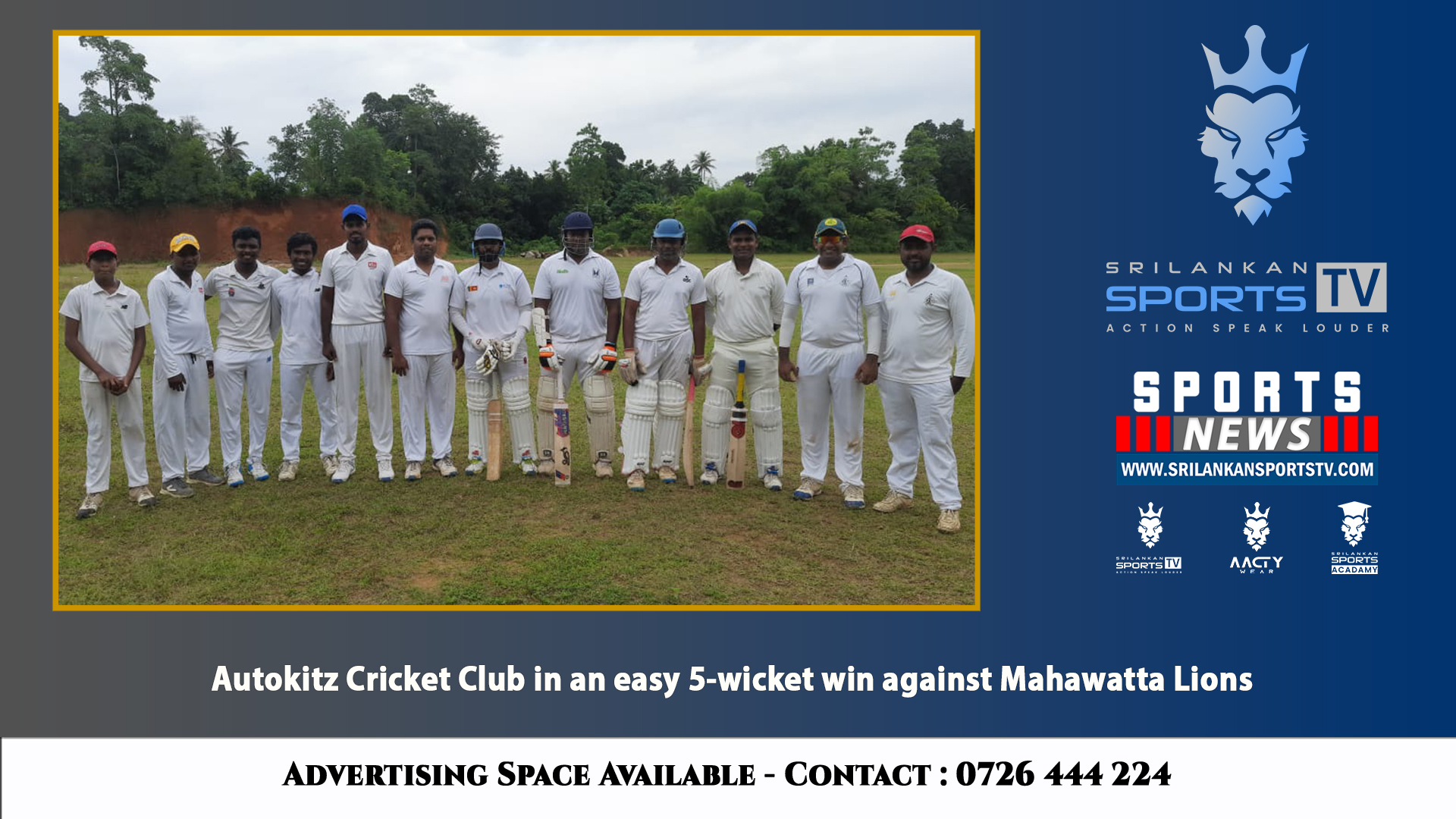 Autokitz Cricket Club in an easy 5-wicket win against Mahawatta Lions 
M.H.Yakeem
Autokitz Cricket Club in an easy 5-wicket win against Mahawatta Lions 
Autokitz Cricket Club registered an easy 5 wicket win against Mahawatta Lions in a 40 overs league Cricket encounter, played at the Gateway Complex ground, Seeduwa, recently.
Mahawata Lions taking first lease of the wicket, lost an early wicket at the score at 3 runs on board. Wickets falling at regular intervals and useful contributions coming from Mohammed (10), Angelo Dinesh (31) and Shantha (12), steadied the innings and were at one stage reeling at 7 wickets down for 129 runs.  Pradeep Viknesh ( 38 ) including 6 fours coming as the 8th batter, together with the 9th batter A. Anush scoring a brilliant knock (30 not out including 4 fours in 31 balls), the pair together kept the board ticking with a valuable 52 partnership.The 
dismissal of Pradeep Viknesh, the 8th batter scored 181 runs, and the next batter, Asitha being dismissed as the 9th batter at scored 191 runs in the 39th over, Malwatta Lions ended their innings with the last pair just adding 1 run to the total in the last over. Pradeep Aberathne, Janith Jayasinghe, and Geesara Dangalla captured 2 wickets apiece, Hasika Chameera and Vishwa Nirmal with a  wicket each, shared the bowling honors. 
Autokitz Cricket Club in the run chase,  openers Lakshman Rodrigo and Janith Jayasinghe, the pair together made a bold reply with an unbroken 71-run partnership for the first wicket. With the dismissal of Lakshman Rodrigo and the 2nd wicket falling by adding1 run to the total, Pujitha Gunawardena joining the other opener Janith Jayasinghe, who was going great guns with his batting talents, was finally dismissed, as the 3rd batter, playing a star-studded innings, scoring a well compiled  67 runs including 10 fours and 3 sixes in 51 balls at the score at 130 runs on board. Pujitha Gunawardena was next to go as the 4th batter. In-form batter, Isurunath Dissanayake,  who played a brilliant knock by scoring a half-century in his previous game,  continued his fine batting form with a glorious knock scoring 49 runs not out including 5 fours and a six, just falling short by a run for another well-deserved half-century. Sunny Udugama (26) was the 5th batter to get out, with the score of 174 runs on board, Hasika Chameera joined Isurunath Dissanayake, and the pair together, saw Autokitz Cricket Club romped home by ease, with more than 10 overs to spare. Angelo Dinesh capturing 2 wickets and a wicket each by Pradeep Viknesh and Shantha, was the pick of the bowlers. Sumith Perera and P. Liyanage, officiated this game, while Fazal Mohamed was the official scorer.
Scores –
Mahawatta Lions – 192/9 in 40 overs
Mohammed 10, Vino 43, Angelo Dinesh 31, Shantha 12, Pradeep Viknesh 38, A. Anush 30 not out, Prasad Aberathne 2/23, Janith Jayasinghe 2/21, Geesara Dangalla 2/24, Hasika Chameera 1/19, Vishwa Nirmal 1/7
Autokitz Cricket Club – 193/5 in 29.2 overs
Janith Jayasinghe 67, Isurunath Dissanayake 49 not out,  Sunny Udugama 26, Angelo Dinesh 2/15, Pradeep Viknesh 1/38, Shantha 1/42 The Autokitz Cricket Club winning team 
(Visited 20 times, 1 visits today)
You Might Be Interested In