Home

Colombo Masters Crowned Champs at Lanka Cavaliers Cricket 6's tournament.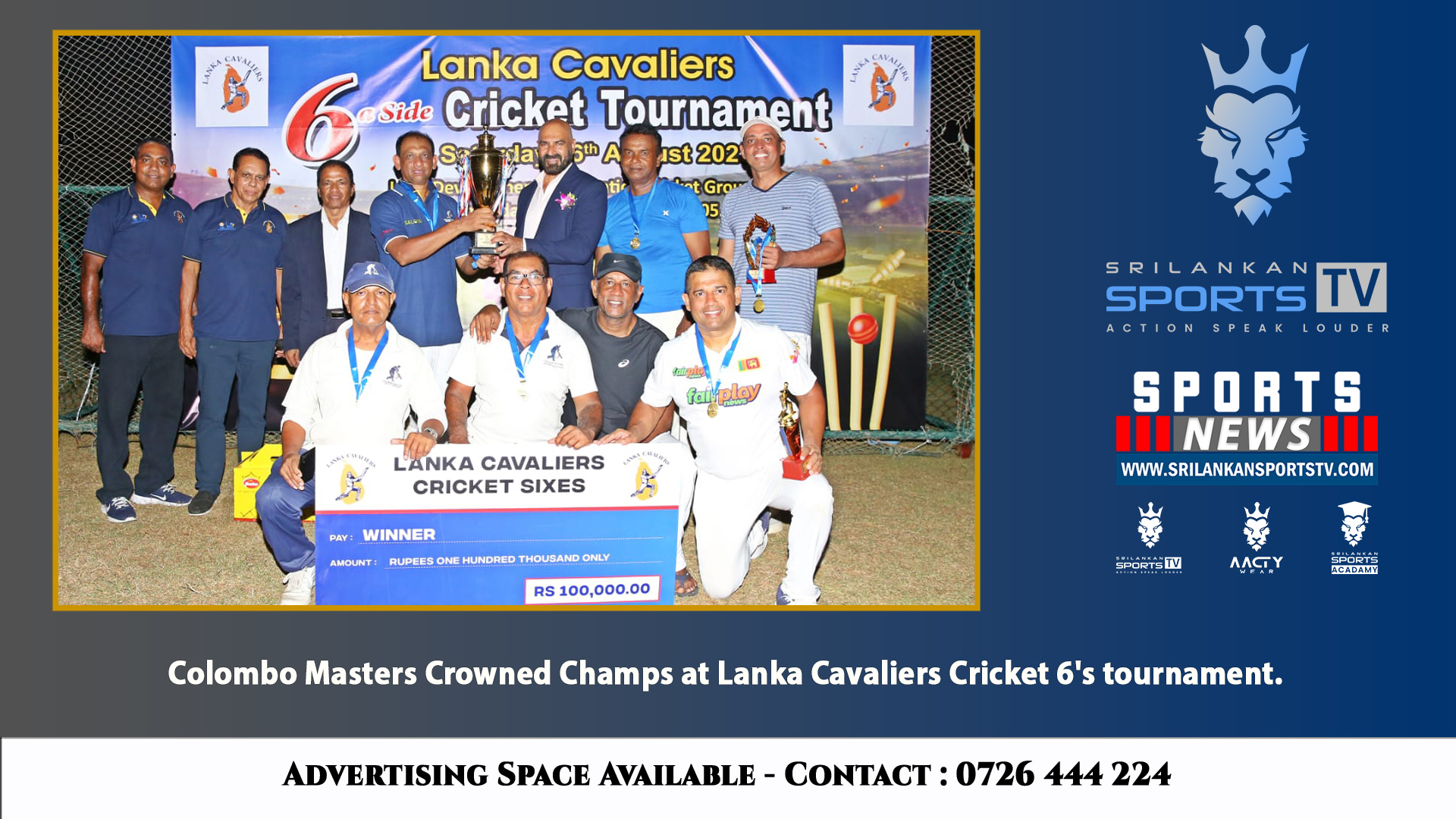 Colombo Masters Crowned Champs at Lanka Cavaliers Cricket 6's tournament. 
M.H.Yakeem 
Colombo Masters was crowned as the Champions at the 8th annual Lanka Cavaliers 6's Cricket tournament, beating Royal Masters by 15 runs in the final, organized and conducted by Lanka Cavaliers,  played at the SLLDC, ground, Kirimandela Mawatha,  Narahenpita recently. 
Colombo Masters led by the dynamic all-rounder, ex-Peterite, Moors Sports Club, and BRC Captain, who had a  bunch of former experienced players, entered the final with an undefeated record,  by showcasing their talents, still continuing with the game at Masters Cricket.
Lanka Cavaliers,  one of the Pioneer Cricket organisations in the country, the committee headed by Chairman,  Tony Gunawardena,  President,  Wasanthalal Fernando, Wendall Labrooy, Thusitha Karunaratne,  Nalin De Alwis, Nevin Nohayr, Riaz Farouk,  Nalliah Devarajan,  Ravi Subasinghe and Renuka Nonis, thanked the Sponsors and the donors for their generous contributions towards this tournament, which was concluded successfully with 9 teams participating. Graham Labrooy, former test Cricketer, and Asoka De Silva,  the famous Cricket Umpire, were the Chief Guest and Guest of Honor respectively, who graced this wonderful occasion. 
Colombo Masters, Chaminda Rajapakse was adjudged as the Best Batsman and Sanjaya Attanayake as the Man of the tournament, while Royal Masters, Sisila Indraratne was adjudged as the Best Bowler and Nuwan Perera, scoring the most no. of 6's.
The Colombo Masters Cricket team comprises Riaz Farouk ( Captian), Chaminda Rajapakse,  Sanjaya Attanayake,  Lalith De Silva,  Nalin Jayasuriya, Pujitha Gunawardena and Tito Amarawickrama.
Scores
Colombo Masters – 52/0
Sanjaya Attanayake 27 not out, Chaminda Rajapakse 13 not out
Royal Masters – 37/0
Nuwan Perera 23 not out, Dharsha Abewardena 3 not out
Caption –
Captain of the victorious, Colombo Masters winning team, Riaz Farouk receiving the Trophy from the Chief Guest, Graham Labrooy, along with his teammates in the picture.
(Visited 40 times, 1 visits today)
You Might Be Interested In